Behind the Seams : The Key to a Distinguished Bespoke Suit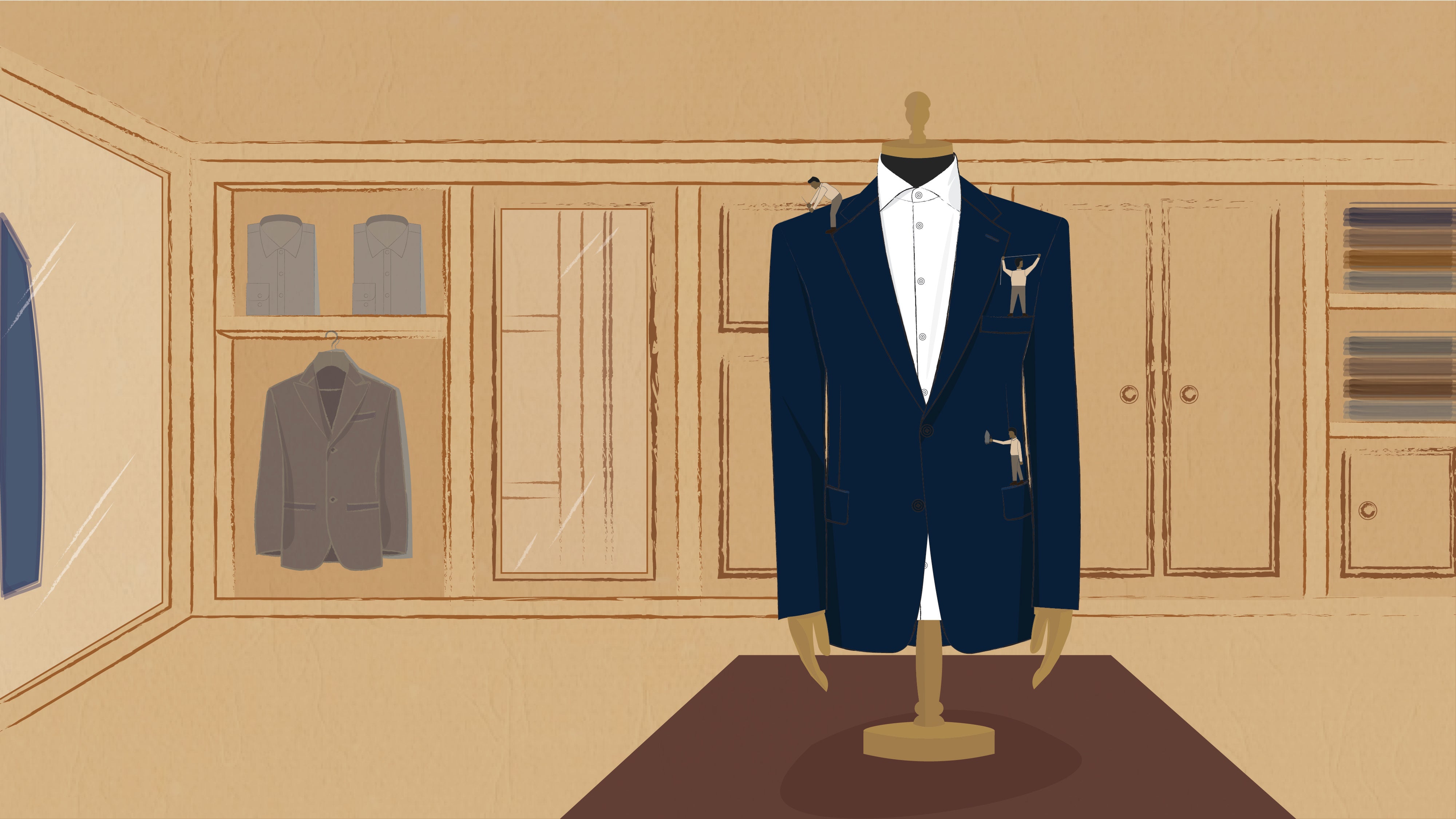 A bespoke suit is not just clothing; it's a work of art, a testament to craftsmanship, and a statement of individuality. Every element of a bespoke suit is tailored to fit its wearer like a second skin, enhancing not only their appearance but also their confidence.So taking the measurements for a bespoke suit is also a precise process that ensures a perfect fit. While it's best to have a professional tailor take your measurements, you can also do it yourself with a friend's help. Here's a step-by-step guide on how to take measurements for a bespoke suit:
You will need:
A fabric measuring tape (not a metal one, as it can be less flexible)
A friend to help you (if possible)
A well-fitting shirt and trousers (similar to what you plan to wear with the suit)
Instructions:
Chest Measurement (A):
Stand up straight with your arms relaxed by your sides.
Wrap the tape measure around the fullest part of your chest, ensuring it's snug but not tight. It should go under your armpits and across your shoulder blades.Take the measurement in inches or centimetres.
Waist Measurement (C):
Measure around your natural waistline, which is typically just above your belly button.Keep the tape measure comfortably snug but not tight.
Hip Measurement (E) :
Measure around the widest part of your hip and buttocks.
Shoulder Width (L):
Have your friend measure from the outer edge of one shoulder to the other such that the tape goes from the back side of your neck. Make sure the tape measure rests on the highest point of each shoulder.
Jacket Length:
Measure from the base of your neck, just above your collarbone, down to where you want the jacket to end. Typically, it's around your hip bone.
Tip: It is said that the hem of the jacket should rub the inner palm of the wearer.
Sleeve Length (B):
With your arm slightly bent and relaxed at your side, measure from the shoulder seam (where the shoulder meets the sleeve) down to your desired sleeve length. Ideally, the sleeve should end at your wrist bone.
Bicep Measurement (K) :

Measure around the fullest part of your upper arm.
Wrist Measurement (H) :

Measure around your wrist.
Neck Measurement (J):
Wrap the tape measure around your neck, just below your Adam's apple. Allow enough room for a finger to fit comfortably between the tape and your neck.
Inseam Measurement (F):
Measure from the crotch seam of a well-fitting pair of trousers down to the desired length. This is usually to the top of your shoe or slightly shorter for a classic look.
Outseam Measurement (G):
Measure from the top of your trousers' waistband down to the desired length, following the natural contour of your hip and leg.
Thigh Measurement (I):
Measure around the fullest part of your thigh.
It's essential to maintain a relaxed posture while taking measurements, as overly tight or loose measurements can result in an ill-fitting suit. Double-check your measurements to ensure accuracy, and always consult with a professional tailor for further guidance and adjustments if needed. When in doubt, it's better to seek the expertise of a skilled tailor to guarantee the best fit for your bespoke suit.